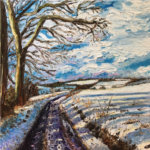 The first time I have painted a snow scene is of this one here, so far that's the only one I've ever painted fingerpainting or otherwise but I'm planning to change this.  Winter's Duvet of Violet and Blue was originally created to enter into a competition, I have now entered it, so here comes the waiting game!
I wanted to make the snow scene less white, introducing as many other colours as I could without straying too far from a recognisable subject.  In a way, I've created a contradiction in terms, as despite the cold subject, the colours used have brought a warmth to the scene, this is also why the title is a contradiction. The texture from the fingerpainting creates an extra level to the piece.
The next one I'm planning on doing is a woodland snow scene…..but this time I want to bring in lots of unusual colours.  I'm still thinking about it.