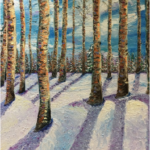 This painting is currently waiting for a title. I'm running a competition on Instagram, where the person who gives the painting a name that myself and my family think suits it best, will win an A3 print.  It's a neat little competition, all the entrants have to do is follow me and write their idea. I may well do this again as I sometimes struggle with naming my paintings, so keep an eye out for my future competitions on instagram, if you need to find me I'm @saskiaskoricfineart
I've decided to bring this one along to The Talented ART Fair, by then it will have a name.  It's tricky deciding on what dynamic of paintings to bring along. I love colour but there needs to be some sort of unity between them. I've still a little time to ponder and panic on that one. The Talented Art Fair starts on Friday 1st March where there is an evening showing, private view, from 6-9pm . Then Saturday 2nd and Sunday 3rd it's free to come along from 12 noon until 6:30pm. Come along if you can, I shall look forward to chatting to everyone so do stop at my wall and say hello. Which of my paintings would you like to see? I'd be interested to know.
I'm enjoying painting woodland scenes at the moment. I love creating the sky and then working through the painting from there. The build up of texture and colours is always a joy and I'm always trying to improve on my last fingerpainting.  Watch out for my next blog, new paintings, exhibitions, there's so much going on!