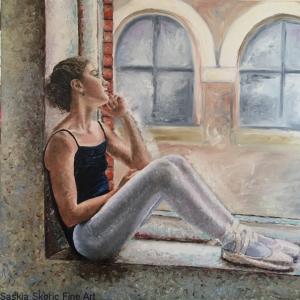 I can't believe that the Talented Art Fair 2019 is already over!  I've had such a build up in my head about the whole affair.  I'm not over keen on doing this type of work, I like to hide away and create the paintings, putting myself out there and selling is always hard for me.  I do however, really enjoy chatting to people, and everyone I spoke to was amazed that the paintings were all produced with my fingers, and no other tools which is a massive boost for my confidence!
It was a very well organised Fair, with many artists all with a huge variety of styles.  A very interesting fair to walk round.  I made some very lovely new friends whom I hope to see again at some stage in the future.  I was indeed, the only fingerpainter there, I'm pleased and intrigued to say!  It seems that fingerpainting is a lot more rare than I thought.  I suppose it's quite a tricky one to master and I will continue to learn the skill as time goes on.
The whole show was over two days and the one evening.  It was incredibly exhausting but equally good fun and well worth it.  I don't know when my next exhibition is but needless to say, I shall let people know on instagram, facebook and here on my blog.
I've currently been working on woodland scenes, and although I've not quite exhausted my passion for this subject, I'm finding myself wanting to paint horses! So we will see how my first close up finger-painted horse come along!  Keep an eye out on instagram and face book for an update…….