Saskia worked over a two year period developing her idea for this children's picture book. It began when Saskia became tired of doing the usual party bags for her second daughter's birthday party. Wanting to do something different she came up with a character that she could paint onto individual t-shirts for the party goers. The Happy Knot Worm was born!
Saskia was then encouraged to develop the idea more and began writing short stories. Further down the line and with the help of talented graphic designer Tom Biggs, Saskia's book went into publication and is now for sale.
If you are interested in purchasing a copy, please use the contact page.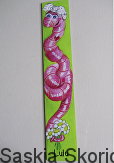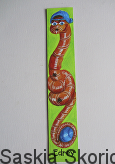 What Lulu's little problem is about…..
Lulu is a forgetful Happy Knotworm, who often loses things but this time she loses something really important.
Come and discover HAPPY KNOTWORM WORLD, meeting some of Lulu's great friends and other creatures as Lulu desperately looks up and down and all around so she can become a true Happy Knotworm again.